Performance Management Services
Performance Management. Just another "Business Management" buzzword? Or is it the key to unlock the hidden potential of your organization?
At Strategic Partners, LLC, we have developed a unique and holistic approach to Performance Management that builds on proven management techniques, and years of experience and application. Our approach is built on some simple underlying principles:
The Vision, Mission and Strategy of the organization must be translated into concrete goals & objectives at every level of the organization that are measured and reacted to consistently (management systems)
The entire organization should understand the internal processes that run day-to-day activity. They should also be given the ongoing opportunity to identify flaws and inefficiencies in the process for possible correction (business process optimization)
To manage performance, you must measure the real drivers of performance at all levels of the organization (key performance measures)
While specific performance objectives may be complementary, they are often internally conflicting (e.g. productivity rate and quality rate), and must therefore be kept in dynamic balance (balanced scorecard)
To effect performance, you must measure and act at the location and time closest to the point of activity effecting performance (short interval controls)
To improve performance, you must regularly assess and correct the real source of impediments to performance (root cause analysis)
We start with a high level assessment of the organization in the three foundational areas:
PEOPLE
PROCESS
TECHNOLOGY
We look for the "state of health" of the key elements in these areas that are the hallmark of every high performance organization, as shown below. We also assess how well the organization has linked these areas together to create a culture of sustainability and continuous improvement.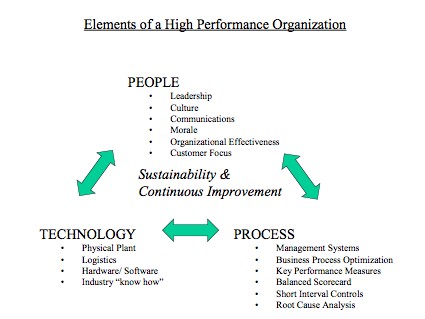 We then tailor our engagement to the organization and its specific needs and abilities, focusing on strengthening the key elements that are most effecting organizational performance. We can help an organization to go from poor performance to good performance. We can also take an organization from good performance to great performance. In the end, our goal is to leave your team with the tools and techniques to adopt a culture of continuous improvement.